On behalf of the Las Vegas PRIDE Board of Directors, I am proud to welcome you to the PRIDE Month edition of Las Vegas PRIDE Magazine. Perhaps you are wondering why Las Vegas chooses to host its PRIDE celebrations in October when June is the month when we celebrate nationally. And it's a fair question. One which I am certain can be answered by spending any significant amount of time outdoors in Las Vegas in June. Have you seen what sweat does to body glitter?
The risk of heat stroke aside, October is the month when we recognize and celebrate both National Coming Out Day and LGBTQ+ History Month. It's a time to celebrate courage and hope. And it's a time to reflect and honor the legacies of those who have come before. October is the perfect time to learn something you didn't already know about our history and our stories.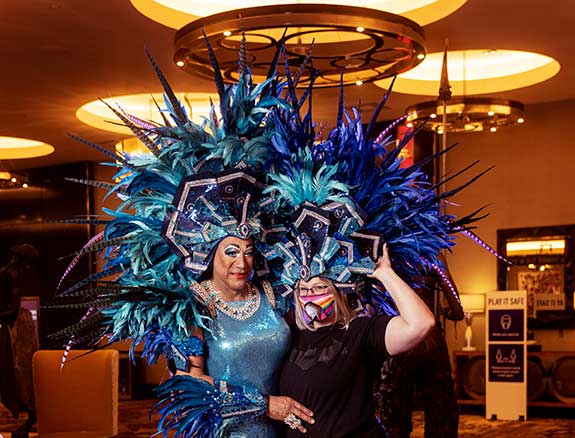 Midori Ice with Joslyn Hatfield
Speaking of our stories, Miss Nevada, Kataluna Enriquez will join us as co-grand marshal for the Las Vegas PRIDE parade. Her undeniable star-power will no doubt propel her to continued success and you can see exactly why in this issue. It's rare that this editor is at a loss for words but stunning doesn't quite seem to cover it.
Another prominent chapter in our story is working to improve the mental health of our people. World Mental Health Day is celebrated on October 10. Our mental health has suffered because of the COVID-19 pandemic. And existing risk factors for LGBTQ+ individuals have been greatly amplified. We've talked extensively this year about the importance of taking care of our mental health, being kind to ourselves and staying grounded. This is a gentle reminder that it is still okay to not be okay. And please, seek help if you need it. You've been through a lot.
I'd like to thank the amazing team who works tirelessly to create each issue of Las Vegas PRIDE Magazine. Our staff of volunteer writers, photographers and other creative types never ceases to inspire me.
PRIDE Month in Las Vegas is about to go off. Follow us on Instagram @pridelasvegas and Las Vegas PRIDE on Facebook to stay in the loop and check out our complete event list in this issue.
Happy PRIDE!
In Pride,
Joslyn Hatfield
Editor, Las Vegas PRIDE Magazine