Lilith
Article & Photography by Megan Williams
The story of Lilith is one of rebellion, push-back, empowerment and bad-bitch energy. Historically, Lilith was Adam's first wife in the Garden of Eden. When she unequivocally refused to be subservient and the modern-day housewife, she up and decided to grow wings and begin a life that didn't stifle her anymore. The story goes, she still roams earth haunting women, until they decide to free themselves from whatever is holding them back.
It's cosmic then that as Madam Aza (yes you read that right) was searching for a name for her queer ladies' night she landed on the embodiment of power herself, Lilith. Because what's more iconic than a Madam choosing one of the most Big Witch Energy women of all time as the namesake for a night of queer women supporting women?
Originally, Madam Aza, the creator, host, and producer of Lilith, was at LA Pride in 2019 when she got the idea for a women's night. At Pride, there was a clear-cut space for queer women to be themselves and she wanted to echo that in Las Vegas. With that vision in mind and some support to push the idea forward Madam Aza was ready to greenlight the project. Then of course 2020 hit, and things went a little stale. Instead of stewing on the false start, Madam Aza dove headfirst into her self-reflection and spiritual practice. She became more fascinated with Lilith's story, specifically the part about the celebration of authenticity and leaving a safe space for others to do the same. With that headspace and her personal development in mind, on November 30, 2020 Lilith was born.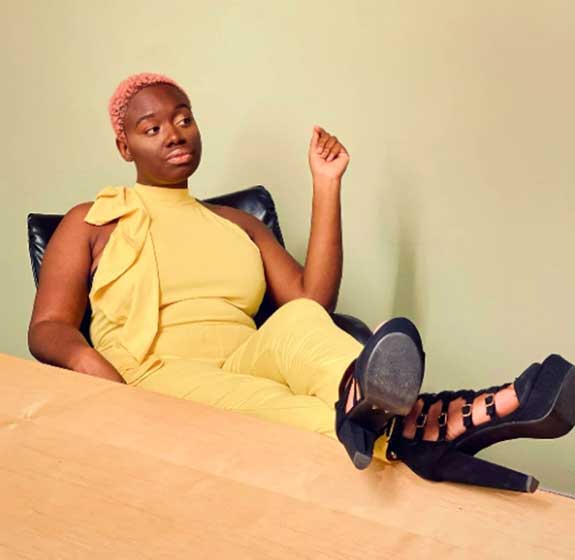 Currently, Lilith runs the second and fourth Monday of every month at Flex Cocktail Lounge in Las Vegas. You can expect great music, a fun vibe, Madam Aza getting on the mic, raffle prizes and performers throughout the night at Lilith.
Recently, I got to go to a few of Lilith's nights and I was absolutely shocked at how packed the place was on a Monday night. Let's be real here, we as queer women don't usually get the marquee nights or times, so the fact that Lilith can pack a venue on a Monday night starting at 9 pm is an accomplishment.
The music is great, the drinks flow, the night runs smoothly with Madam Aza on the mic and when the performers take the stage everyone gets their money out and enjoys. It is a queer women's night, but all are welcome and warmly accepted. The spectrum of patrons was all over the place and everyone had a safe space to just be themselves, kick their feet up and enjoy a night on a Monday.
What's most noticeable is Madam Aza's palpable, captivating and energetic vibe both on the mic and off. She entertains the crowd in between performers, and she mingles throughout the night making everyone feel welcomed, empowered, and fierce as hell. Usually, she's in a fire outfit with an even more fiery personality and a smile to match. She is a Madam by all accounts of the word and seemingly the perfect person to run Lilith. And she has plans.
In the future, she wants Lilith to take its rightful place on the weekends, where she can get more people in the venue and get the word out about what an amazing ladies' night can look like. Right now, it's just her and another person running the show, so she would like to expand her team, which, she had noted, if anyone is interested in joining her team get in touch with her. She would also like for Lilith to be more financially supported so she can do more in our queer community and continue to showcase amazing up and coming performers.
For now, Lilith is a must see, so get your asses out to Flex Cocktail Lounge every second and fourth Monday and take it all in. I guarantee you have a great time and feel a little more empowered than when you walked in the door. You can find Lilith on Instagram and Facebook under their name @Lilith_LasVegas. As soon as you walk in the door, you'll know exactly who Madam Aza is. She's the hauntingly beautiful goddess looking to push you out of your comfort zone and into a new breed of ladies' night. Tell her I said hi.
Stay wild friends,
Megan