Christine Ferea
The Bare-Knuckle Misfit
Article by Lupie Janos, Photography by Megan Williams
What's 5'5", 125 pounds and not to be messed with? How about the #1 ranked, bare knuckle fighter in the world, Las Vegas-based Christine Ferea? Affectionately known as the "Misfit" of the fighting world, Ferea is a force to be reckoned with in the growing field of women's professional fighting.
How exactly does one get into bare knuckle fighting? Ferea has been fighting most of her life; from the streets of San Jose, California where she was born and raised, to the ring to competing in the Flyweight division of the Bare-Knuckle Fighting Championship (BKFC). Las Vegas PRIDE Magazine caught up with Ferea to find out.
She started fighting in her early childhood out of necessity and because it was the only way she could make sense of her emotions. She and her brother were raised by a single mother who found the strength to leave Ferea's biological father who was an alcoholic. Ferea has been rising above her circumstances for a very long time.
But there have been bright spots along the way. Ferea's stepfather would eventually become a grounding and positive influence for the fighter. "I credit my stepfather as being an important influence in my life," she said. Ferea's mother and stepfather worked hard to provide for their family, but the siblings learned to be independent early.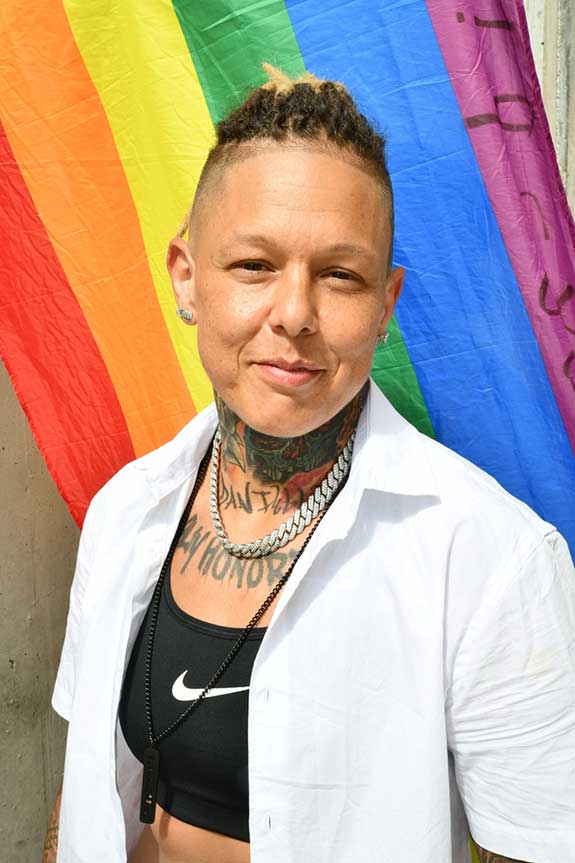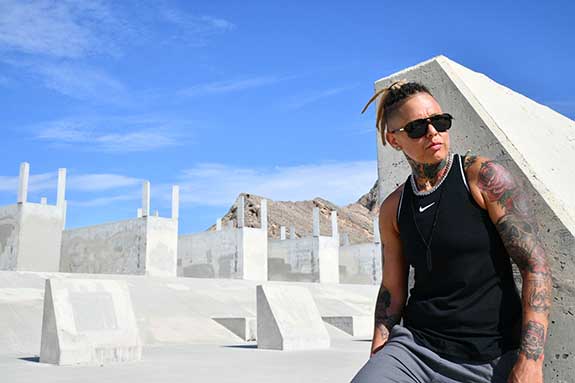 "We ran the rough streets of San Jose and Modesto," she said "We fought often for respect and to protect ourselves. Not surprisingly, we both eventually had run-ins with law enforcement." Ferea admits she maintained an unhealthy lifestyle during that period of her life– using alcohol and drugs to deal with emotions and unresolved childhood trauma.
Her last time in jail, she had a moment of clarity while staring up at the sky. "I looked at my surroundings and decided right there, this is not the life for me." When she was released, Ferea went back to school and signed up for a gym to get in shape. It was there that she discovered fighting and learned why you truly cannot judge a book by its cover.
Ferea smiled as she recalls the experience "I got my ass handed to me in that first gym. It was humbling." The girls at the gym were feminine, they were little and she completely underestimated them. "That was the last time I made that mistake," she said. She learned from those early trials and used her losses as motivation to get faster and stronger. Those lessons set her on the path to become the best.
And, fighting gave Ferea something else: a new outlet for those childhood memories and emotions. She turned her life around and persevered through homelessness, self-hate and thoughts of suicide. "I learned the tools to recognize when I needed help and how to funnel my pain into fighting and my workouts," she said.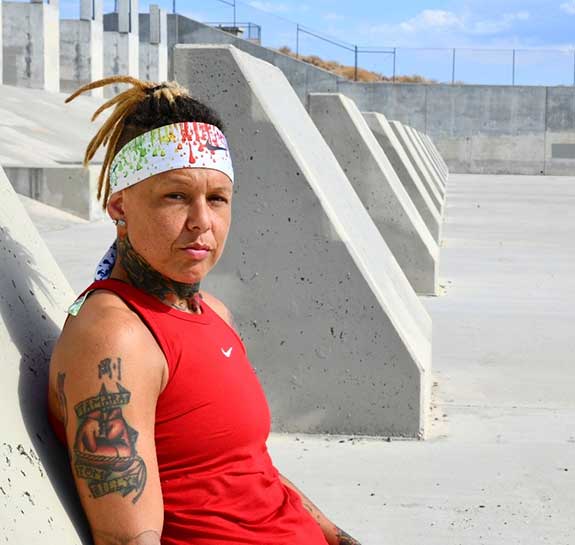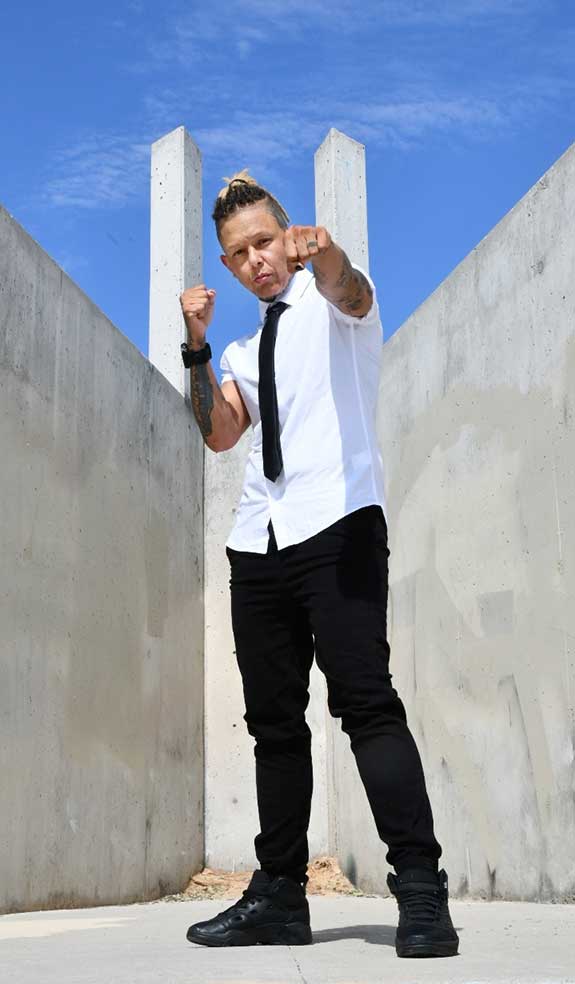 Her path later led her to Las Vegas to pursue a professional fighting career and to come OUT. "My hometown was not a place where it was safe to come out," she said. "The environment was much different then and there was a different level of acceptance for the LGBTQ community." She made Las Vegas her home of thirteen years and feels she can live her truth here.
A passionate advocate for women's equality, particularly equal pay, Ferea sometimes finds herself fighting outside the ring. "I want to use this platform to show people, especially in the LGBTQ community, that you can push through the struggle," she said. She hopes the message resonates with LGBTQ young people the most.
In fact, she is an outspoken proponent for anti-bullying campaigns that inspire LGBTQ youth. "I think it's important for youth to hear that you can come from dysfunctional home environment and still succeed and that there are resources available if you are being bullied."
Ferea believes in the power of thought and intention; say it into being, whatever it is. This contributes greatly to her own healing and drives her to keep getting better. Her current lifestyle focuses on selfcare to keep her mind and her body healthy while managing her anxiety and depression.
As for life inside the ring, at age 38, Ferea feels she has four to five more years left fighting at this level. She is aware that the haters will discount her based on her age, but the joke is on them. "Right now, I am the strongest, fastest and most skilled I have ever been." She has experienced discrimination in the fighting community base on her overall aesthetic or "look". It's no secret that sex and femininity sell. But Ferea knows there is a market out there for her. Some would say that The Misfit appeals to the misfit in all of us.
Ferea feels a particular responsibility to women, to the LGBTQ community and to future generations. She's a survivor and wants to share her story. She wants to motivate others to never give up and to not let others push you out. "Stay fit for the position you are in. Stay fit for what you are chasing," she said.
For Ferea, that means preparing for her next bout on September 17. In the best shape of her life and fully recovered from injury, she feels like a savage in the ring and is ready to perform. Trust us, this is one show you won't want to miss.
Find Christine at:
GYM: Hard Knocks Muy Thai
TWITTER: @CHRISTINEFEREA_
INSTA: @christineferea