Atomic City Football Club
Atomic City Football Club was created in Las Vegas by a group of inspired, passionate soccer coaches and leaders to provide a platform and avenue for the top female footballers to excel in the women's game. The club was established for the specific purpose of developing a high-level competitive soccer program. Their goals are to achieve regional and national level play, as well as developing players capable of playing at the next tier of professional soccer in the National Women's Soccer League (NWSL), Major League Soccer (MLS), and abroad.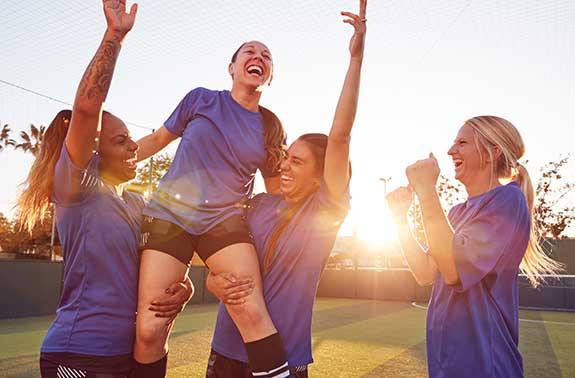 Atomic City FC is a member of the Desert Conference of the West Region in the largest organized soccer league in the world, the Women's Premier Soccer League (WPSL), the second-highest level tier league below the National Women's Soccer League (NWSL). Atomic City FC played their home matches in their inaugural 2021 season at Pinecrest Academy Cadence Campus in Henderson, Nevada.
The club is the result of the shared vision of local youth soccer club directors, Nelson Medina and Pedram Mahinpey. Their goal is simple, to inspire local female soccer talent with the highest level of professional training and playing environment. And is so doing, unite them on and off the field and while bringing the community together. "This is really about creating a platform for women to shine within the sport and beyond," said Medina.
The "Atomic City FC" team name originates from the nuclear weapons testing that began on January 27, 1951, at the Nevada Test Site, 65 miles northwest of Las Vegas. During this time, the city was nicknamed the Atomic City, and visitors were able to witness the mushroom clouds until 1963. Seventy years later to the day, on January 27, 2021, Atomic City FC was born.
The mission of Atomic City FC is to foster the physical, mental and emotional growth of all youth players and to enhance, assist and grow the sport of soccer for our WPSL women in our Las Vegas valley community. A particular emphasis is placed on cultivating our footballers holistically into mature and positive contributing members of our program and community.
The club seeks to provide a safe, educational and fun environment for all players to develop skills through the sport of soccer at all levels of competency and ages. And just four and a half months after the launch of the WPSL team, the club launched a youth program for ages U6-U19.
Visit their webstie at AtomicCityFC.com, and follow them and the club on Facebook, Instagram, Twitter, YouTube.