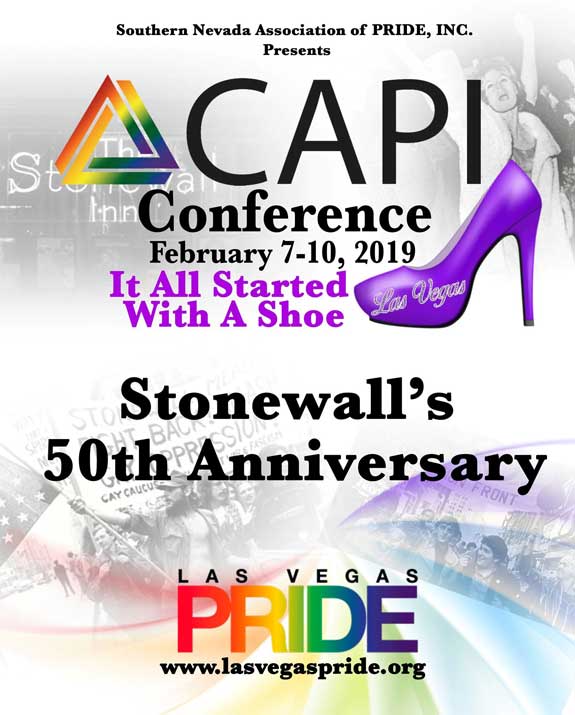 It All Started With A Shoe. CAPI 2019
Southern Nevada Association of PRIDE, Inc.  is hosting the 2019 CAPI Conference at the Alexis Park All Suite Resort from Thursday, February 7 to Sunday, February 10, 2019 in fabulous Las Vegas, Nevada.
To register to attend the 2019 CAPI AGM & Conference, click below.  Please note that payment must be made to complete your registration.  Early-Bird and other special offers are time-sensitive and not relative to the date of registration submission.
To purchase conference admissions for yourself or your business/organization, click below.  You may pre-purchase admissions now (to take advantage of lower pricing) and submit attendee registrations at a later date.
CAPI Member Rates:
InterPride Conference Pricing (October 4-7, 2018): $189
Early Bird (October 8 through December 31, 2018): $199
Special Sale (Now through January 18, 2019): $199
Standard (January 1, 2019 through January 18, 2019): $235
Late Registration (January 19, 2019 through February 1, 2019): $245
Non-CAPI Member Rates:
Available until February 1, 2019: $250
Conference Guests:
Guests are invited to attend meals, gala and sponsored outings only
Registrations through February 1, 2019: $125
2019 CAPI Conference Program Information:
The Official Guide to "It All Started With A Shoe." CAPI Conference in Las Vegas, Nevada is more than a simple conference program. It is an informative and entertaining guide to the events surrounding the conference as well as the Las Vegas LGBT community. The visually stimulating, highly informative souvenir guide reaches a diverse audience long after the close of the CAPI Conference.
The program will be distributed to all conference attendees and will be available for download online at LasVegasPRIDE.org prior to the conference.