Annual PRIDE Night Parade Forms & Information
Thank you for your interest in registering to participate as an entry in the annual Las Vegas PRIDE Night Parade. Listed below are the forms available to contingents wishing to enter the parade line-up.
All parade participants should be aware of the Mandatory Night Parade Meeting to be held at 6:30pm on October 11, 2018 at Alexis Park Resort. This meeting is MANDATORY FOR ALL PARADE CONTINGENTS and at least one representative from your group must attend. During this meeting, the parade committee will review staging information, rules & regulations, judging & awards, and other important information. Each contingent will also meet briefly with a committee member to make sure all required forms and entry fees have been received.
Food Truck Vendor Application

(Coming Soon)
If you did not submit payment with your PRIDE Parade application, you may do so using the link below.  Please do not submit fees until you have first completed your application.
Click on the image below for a larger version of the Kre8 Media Mobile Billboard offer for the PRIDE Night Parade.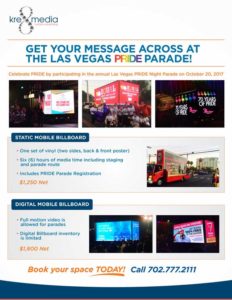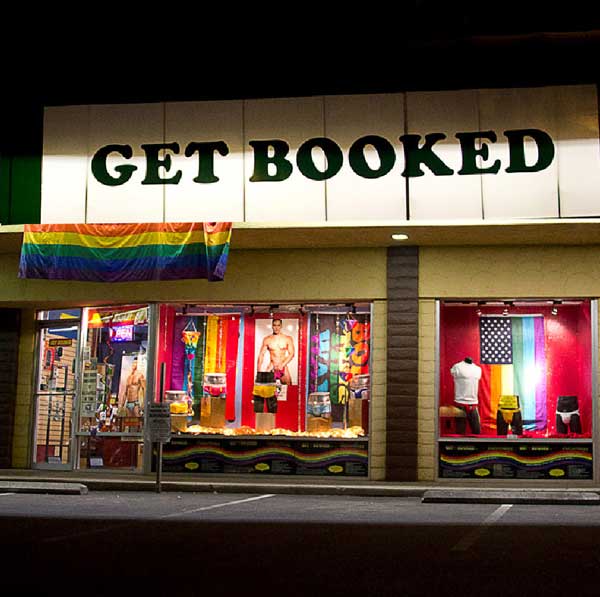 Special Parade Participant Offer!
Our generous PRIDE supporter Get Booked has offered to help your organization present a great presence in the exciting Las Vegas PRIDE Night Parade!
Get Booked currently has a supply of rainbow flags, boas, gloves, arm sleeves, wigs, hats, ties, scarves, leis, stickers, socks, hair clips, windsocks, bandanas, underwear, beads, windmills (spinners) and more!  Note – Get Booked also carries a wide variety of LGBT community flags including bear, leather, trans, bi and many more.
Stop by and let Get Booked help you design and incorporate the rainbow into your contingent!
If you would like, visit www.RainbowDepot.com for ideas.  You can order directly from them online, or stop by Get Booked and receive a 10% discount and save on shipping!
Enjoy the benefit of local support AND a 10% discount if you complete your order with Get Booked by Tuesday, September 15th at noon.  Get Booked will still be happy to help you add the rainbow to your contingent after that time, however there will be a limited inventory and no discount.
Where to find them:
Store Address: 4640 Paradise Rd, Las Vegas, NV 89169 (Just south of Paradise and Harmon)
Phone: Call Wes at 702-917-5465 (9am-6pm)
Email: wes@getbooked.com