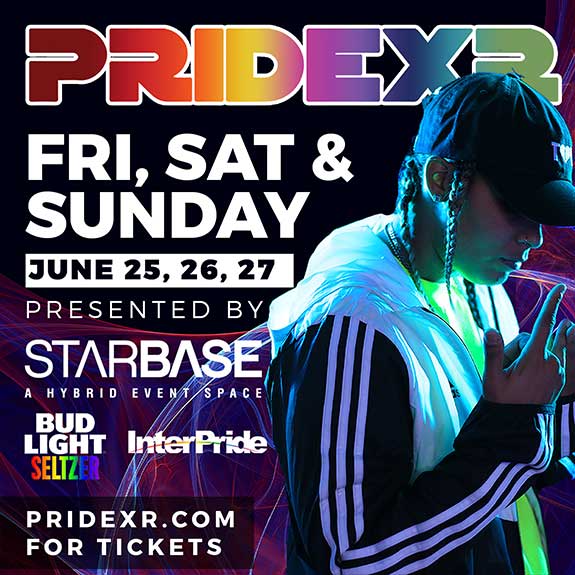 PRIDEXR
June 25, 2021

-

June 27, 2021
Celebrate PRIDE globally at PRIDEXR! Located physically right by the Allegiant Stadium in the world's first Hybrid Event Space! People can join us virtually in a special curated world with their Oculus goggles or computer and physically at STARBASE! Meet LGBTQ people from around the world!
This 3 day event is jam-packed with experiences and shows everywhere you look!
Friday join us for our live comedy event with Failed to Render. Then dance the night away with performances with our local lesbian latin trap artist, Damire Major and dance to the tunes of DJ Skye.
Saturday we're turning it up to a blast for the OFFICIAL Las Vegas PRIDE CORONATION AFTER PARTY as we fill StarBase up with cirque performers, burlesque dancers, go-go dancers, performances by Damire Major, Kristine Mirelle from X factor, Vanessa Lynnae, Cait, Taylor and our FAAABULOUS host EDIE! Dance the night away with DJ Skye. DJ Luke Dice, DJ Aravi. DJ Celeste and more!
Sunday we got you covered with hangover mimosas and a 2 hour open bar plus food with the TASTE THE RAINBOW BRUNCH! Eat and enjoy as EDIE and some of the girls from FAAABULOUS bring us a one of a kind drag show!
For all of our Las Vegas Pride lovers you get all three days for only $99!! One free drink every night as well as the 2 hour open bar and FOOD for Sunday Brunch!
Book with your friends as this deal won't last! www.PrideXR.com
Share This!