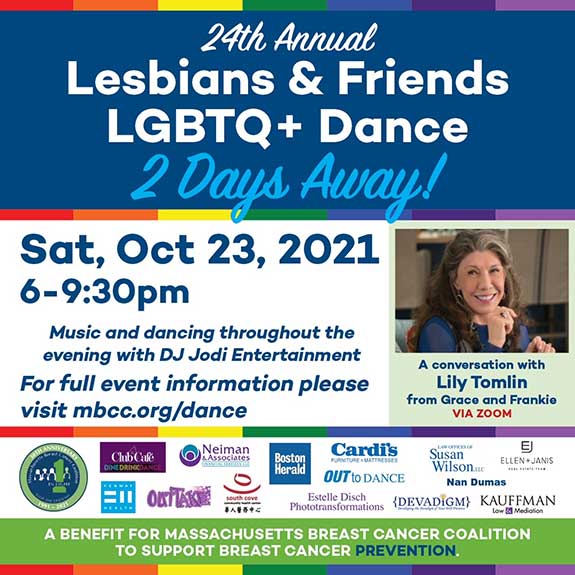 Lesbians & Friends LGBTQ+ Dance
October 23, 2021 @ 6:00 pm

-

9:00 pm
The 24th Annual Lesbians & Friends LGBTQ+ Dance will take place virtually on Saturday, October 23rd, 2021 from 6 p.m. – 9:30 p.m. EST. The event will feature a guest appearance by long-time environmental activist, actress, and comedian Lily Tomlin. There will be music with DJ Jodi Entertainment and dance lessons with Liz Nania, the founder and director of OUT to Dance. Club Cafe in Boston will help to facilitate this virtual event.
LGBTQ+ Dance Highlights:
Virtual appearance by environmental activist, actress, comedian Lily Tomlin
Music with DJ Jodi Entertainment and dancing
Dance lessons with Liz Nania from OUT to Dance. Learn to dance the cha-cha, rumba, salsa, or merengue with no partner needed!
Tickets to attend the virtual event for adults are on a sliding scale of $15, $30, or $45. Tickets for students are $10. All proceeds from this event benefit Massachusetts Breast Cancer Coalition's mission of breast cancer prevention.
For full event information and to purchase tickets please visit https://mbcc.org/dance/
Share This!