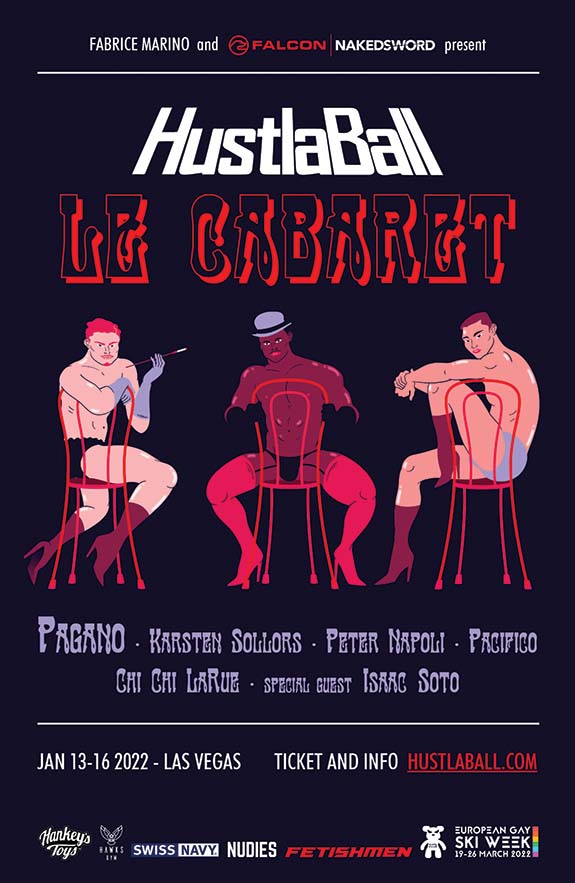 HustlaBall returns to Las Vegas January 13-16, 2022, for its eighth year of sex positive mischief of the highest order.  The worldwide phenomenon returns bringing some of the hottest international names in entertainment and nightlife, as it has for nearly a decade. From Televiv to Berlin. Vancouver to Las Vegas. Hustla Ball promises an inclusive multi-day party built on respect, consent and yes, a little pushing of the envelope.
HustlaBall is home to arguably some of the most erotic dance parties in the world and boasts a weekend full of face time with the hottest LGBTQ+ Adult entertainers in the industry. The annual descends on the Artisan Hotel for a complete takeover. Visit www.hustlaball.com to purchase tickets.
EVENT SCHEDULE
Artisan Hotel, 1501 W Sahara Ave, Las Vegas, NV 89102 (unless otherwise noted)
Thursday, Jan 13th, 2022
WELCOME PARTY – 10 pm to Late. Location TBA. ALL PASS WELCOME
Friday, Jan 14th, 2022
VIP COCKTAIL PARTY 8 pm to 10 pm
Location: Caesar's Palace VIP WEEKEND PASS ONLY- OPEN BAR EVENT
RED LIGHT DISTRICT 10 pm to 4 am
Location: Provided to valid ticket holders.
ALL PASS WELCOME/ RED LIGHT DISTRICT TICKET OPEN BAR EVENT
Saturday, Jan 15th, 2022
HustlaBall Comedy Brunch hosted by Sister Roma
Performance by Brad Loekle included for hotel guest and walk-in welcome ($38)
PLAY LIVE hosted by Falcon and NakedSword 5 pm to 7 pm ALL PASS WELCOME
HUSTLABALL CABARET MAIN EVENT 10 pm to late ALL PASS WELCOME
Sunday, Jan 15th, 2022
HUSTLABALL CLOSING PARTY 12Pm to 5pm (Artisan Pool) ALL PASS WELCOME
Share This!