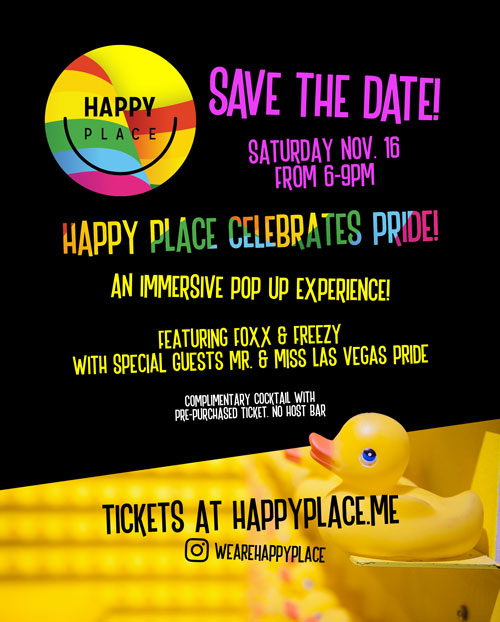 Happy Place
November 16, 2019 @ 6:00 pm

-

9:00 pm
HAPPY PLACE is filled with multi-sensory immersive rooms inducing smiles and laughter, plus larger-than-life one of a kind installations—including seven-foot stilettos made of a million candies and six-foot tall mirrored X and O letters surrounded by a wall of one thousand red lips—you'll find a whole lot of selfie moments that you don't want to miss. "Capture Your Happy" for your social media—sharing the happiness is highly encouraged. From dancing in the world's largest confetti dome to posing inside the famous rubber ducky bathtub of fun and jumping off a rainbow into a pot of happiness, guests travel through each unique room guided by a team of specially selected and trained Happy People. Happy Place is created for an audience for all ages. Minors under 16 must be accompanied by an adult, but if you're old enough to smile, you belong inside.
For the first time ever, HAPPY PLACE Las Vegas will partner with Las Vegas PRIDE to host the Happiest Party in Town,in celebration of PRIDE on Saturday, Nov.16 from 6 – 9 p.m. FoXx & Freezy from "Queering the Air" on Channel Q will emcee along with DJ beats. Guests can also enjoy complimentary cocktails and custom PRIDE cupcakes from Caked Las Vegas. Proceeds from bar sales during the event will benefit Las Vegas PRIDE.
Tickets cost $35 and can be purchased online at happyplace.me/tickets. Guests can receive a 20% discount when they purchase tickets in advance and use code HPPRIDE.
Share This!