Get TRANSFIX'D
Article & Photography by Jennifer Howe (They / Them)
It was a beautiful spring day when Transfix opened its gate at Resorts World in late April to the crowds of patrons ready to experience the first of its kind, an immersive outdoor art gallery. This massive 4-acre interactive art experience features 50 different art installations from artists all around the world. Participants who enter the space get to choose their own adventure as they wander through the labyrinth of curated art, light, sound, and video works that are on display on the large property, just off the Las Vegas Strip.
Transfix is trying to create a global economy for large art pieces and installations, so more people can be exposed to art that can not fit in a museum or does not work in the museum model where art is supposed to be viewed and not touched. Some pieces might look familiar to folks who have been to the playa for Burning Man. Until now, many of these pieces didn't have a place to be viewed, except at places like Burning Man. Many of the pieces have an interactive element where the art can only be fully appreciated once participants choose to engage with it. Every piece of art has a large title card with the artist's name, a brief description of the art, a QR code for more information, and a description of how the piece should be interacted with.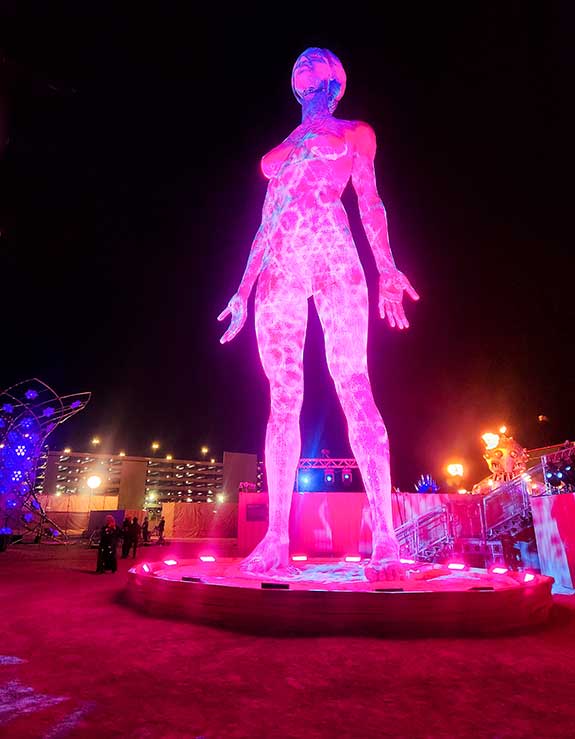 There are many stand-out pieces in the outdoor art gallery, like the 45-foot-tall female statue that breathes, or forest of trees made from hexagonal mosaic pieces made from upcycled wood, or the 10,000 square foot installation of a lighted inverted pyramid that stands in the center of the creative jungle that has continuous theatrical light shows throughout the evening. There is even a hidden speakeasy with morphing origami-lighted mushrooms that change shape and bloom. Some pieces mix the elements such as a towering metal twisting tree with spinning fire orbs on the ends of its serpentine branches. There is even a hydraulic robotic hand that weighs over 8 tons and has the force to crush cars or pick up objects.
Transfix is for everyone of all ages and all abilities. Check out the world's largest immersive art experience. Transfix will be open at Resorts World until the end of September 2023. On June 23rd, 2023, Transfix will partner with Las Vegas PRIDE to offer a special PRIDE Night celebrating LGBTQ+ month. For tickets, scan the QR code on the Transfix ad or click here. For up-to-date information on hours of operation and special events, check out www.Transfixart.com or follow @Transfixart on Instagram.