Reinvesting in Your Health: Breaking Down Health Disparities in the LGBTQ+ Community
By Dr. Florence Jameson, MD, Obstetrics & Gynecology
Board Chair of the Silver State Health Insurance Exchange
If we've learned one thing as a society from the last two years of managing a global health crisis, it's that investing in your physical and mental health is one of the most important things you can do for yourself and your family. Having access to quality and affordable health insurance is critical in prioritizing your health needs and it's something I hope every Nevadan (and American) has in order to protect themselves and receive the care they need in case of an emergency.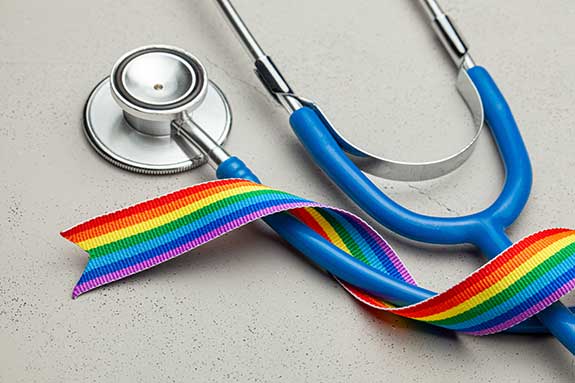 However, some demographics, including those of the LGBTQ+ community face higher rates of comorbidity, depression and lack of health care coverage. 2018 data from Nevada and United States Behavioral Risk Factor Surveillance System (BRFSS) shows that individuals identifying as gay/lesbian have an uninsured rate of 14.3% as compared to 9.6% of individuals identifying as straight. With my daughter being part of the LGBTQ community, this issue hits close to home for me.
We must also acknowledge the intersectionality of LGBTQ community and race, and how it disproportionately affects these populations when it comes to health insurance. According to UCLA's 2021 Williams Institute of Law report on the Black & LGBT community, more Black LGBT adults than Black non-LGBT adults were uninsured (25% vs. 17%) and fewer Black LGBT adults had a personal doctor compared to Black non-LGBT adults (64% vs. 76%). These are just some of the health disparities present in our community.
Nevada Health Link, the online health insurance marketplace operated by the Silver State Health Insurance Exchange, is one of Nevada's trusted agencies that aims to help the underinsured population get access to the quality care they need at the most affordable rate, while working to close the gap on health disparities.
Nevada Health Link offers at least 126 plan options from seven name brand carriers, giving consumers autonomy to choose their health insurance based on their individual needs and budget. This is critical to those in the LGBTQ community who may feel a lack of trust in the health care industry already, giving them the ability to pick their doctors and care providers based on the plans they have selected.
According to Nevada's 2021 Minority Health Report, a lack of cultural competency in health care settings can make it more difficult for people identifying as LGBTQ+ to receive or perceive culturally competent care. In fact, transgender individuals may opt out of accessing care all together due to discrimination and harassment faced by health care providers.
Nevada Health Link wants to ensure no Nevadan feels unsafe or discriminated against when receiving care, which is why it partners with organizations such as The Center Las Vegas to help Nevadans gain the resources they need. Free enrollment assisters are also available in person and over the phone, in multiple languages, to help individuals through the enrollment process and are there to help Nevadans answer questions about their plans, what their coverage includes and how to navigate their plans after coverage begins. Nevada Health Link is ideal for Nevadans who do not have employee sponsored health insurance and/or do not qualify for Medicaid.
Most importantly, all plans on the Exchange include coverage of the 10 essential health benefits, including mental health services, prescription drugs, rehabilitation, preventative services and so on. With LGBTQ persons suffering higher rates of mental health illnesses and comorbidities, the coverage of these services can be a lifeline. Access to quality health insurance is just one step for individuals to put their mental health on the forefront.
Nevada Health Link is the only place Nevadans can receive federal financial aid (subsidies) to help lower the monthly cost of insurance plans. About 90% of Nevadans who qualify for plans on the Exchange also qualify for these subsidies, thus significantly reducing the cost of health insurance.
Though the next Open Enrollment Period (OEP) won't begin until November 1 of this year, some Nevadans may still qualify for the Special Enrollment Period (SEP) if they experienced a Qualifying Life Events (QLE), such as getting married or divorced, moving, change of job/income, giving birth or adoption, loss of coverage, turning 26 or gaining legal status.
To learn more about Nevada Health Link or to see if you qualify, visit NevadaHealthLink.com or by calling 1-800-547-2927; or follow along on Facebook, Instagram and Twitter.