Las Vegas LGBT-Friendly Accomodations
The city of Las Vegas has been home to LGBT-friendly hotels and resorts for many years. In recent years many of the mega-resorts on the Las Vegas Strip have begun marketing directly to the LGBT community and many are involved in some manner with Las Vegas PRIDE.  Las Vegas even has its own LGBT focused web page: LasVegas.com/gaytravel.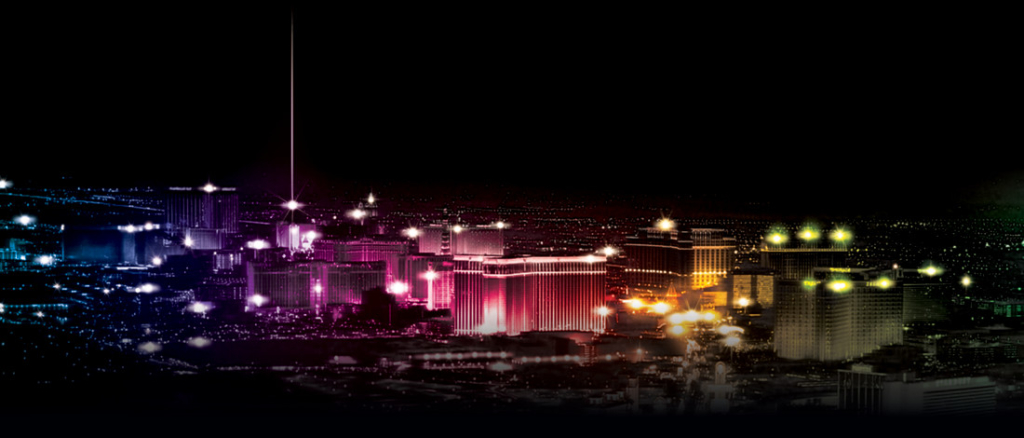 Las Vegas Hotels with PRIDE!
Listed below are some of the hotels that support PRIDE events both during the annual Las Vegas PRIDE Celebration and throughout the year.  Jump directly to each of the following hotel's information by clicking on the buttons below:

Luxor Hotel & Casino
3900 Las Vegas Blvd. South
Las Vegas, NV 89119
Book a Room
Website: Luxor.com/LGBT
Phone: (800) 876-0006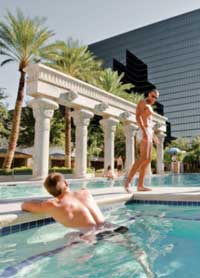 Welcome to Luxor, where dynamic nightlife, world-renowned dining and star studded entertainment have transformed Las Vegas into the ultimate destination for the LGBT crowd. The Luxor pyramid with its beam of light provides a striking visual even on the overtly glamorous Las Vegas Strip. One of the most recognizable structures in Las Vegas, the 30-story architectural wonder invites curiosity, while the inside rewards visitors with equal parts excitement, mystery and intrigue.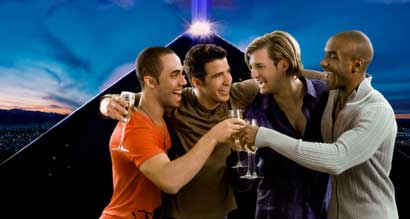 A magnificent lobby greets guests, drawing eyes upward to one of the world's largest atriums and then inward where the action awaits. With a 120,000-square-foot gaming area, delectable dining, stimulating nightlife and top-notch entertainment, Luxor is an unparalleled travel destination.
Luxor's restaurant scene includes Tender steak & seafood, T&T Mexican Restaurant, and Rice & Company Asian bistro as well as a scrumptious buffet, café, deli, and various fast food outlets.
A variety of gay-welcoming nightlife options include LAX Nightclub, Liquidity center lounge, Aurora Lounge, and Cathouse Boutique Nightclub with its enticing Boi Buffet every Sunday afternoon.
Few resorts anywhere offer entertainment as diverse Luxor, where you can experience the haunting, surreal mind trip of master illusionist in CRISS ANGEL® Believe™ by Cirque du Soleil®; laugh out loud at the award-winning prop comedy and observational humor of Carrot Top; or arouse your senses with the beautiful dancers in Fantasy, the Strip's hottest tease.
Temptation Sundays, the Strip's original and hottest LGBT Pool Party makes a splash every summer between May and September, with host J.Son of sincitytimes.com, hot music, and even hotter boys and girls sunning themselves on our expansive deck. Cabanas, daybeds, and VIP seating are available along with a variety of drink specials. Voted Best Gay Event, Temptation Sundays is the place to see and be seen.
Alexis Park All-Suite Resort

Alexis Park All-Suite Resort
375 E. Harmon Ave.
Las Vegas, NV 89169
Book a Room
Website: www.alexispark.com
Phone: (800) 582-2228

As an "ORIGINAL LGBTQ friendly" Las Vegas resort, the Alexis Park All Suite Resort has for thirty years welcomed groups and individual guests from our community before it was acceptable and desirable business on the Las Vegas Strip. In fact, the Alexis Park played host to our local festivities for National Coming Out Day in October, 2014. Our PRIDE team arranged and officially married 7 lesbian and gay couples up on our rooftop terrace. The Alexis Park also is home for the Las Vegas PRIDE Family Bingo in 2015.
Over the last five years the mega casinos have invested millions of dollars in advertising to this newly found potential gaming demographic. (the gay community) while the Alexis Park All Suite Resort has been hosting Diversity, Gay Friendly and Lifestyle groups and fundraisers for many, many years. The resort's Diversity, LGBTQ and Lifestyle liaison is an active and visible member of our LGBTQ community.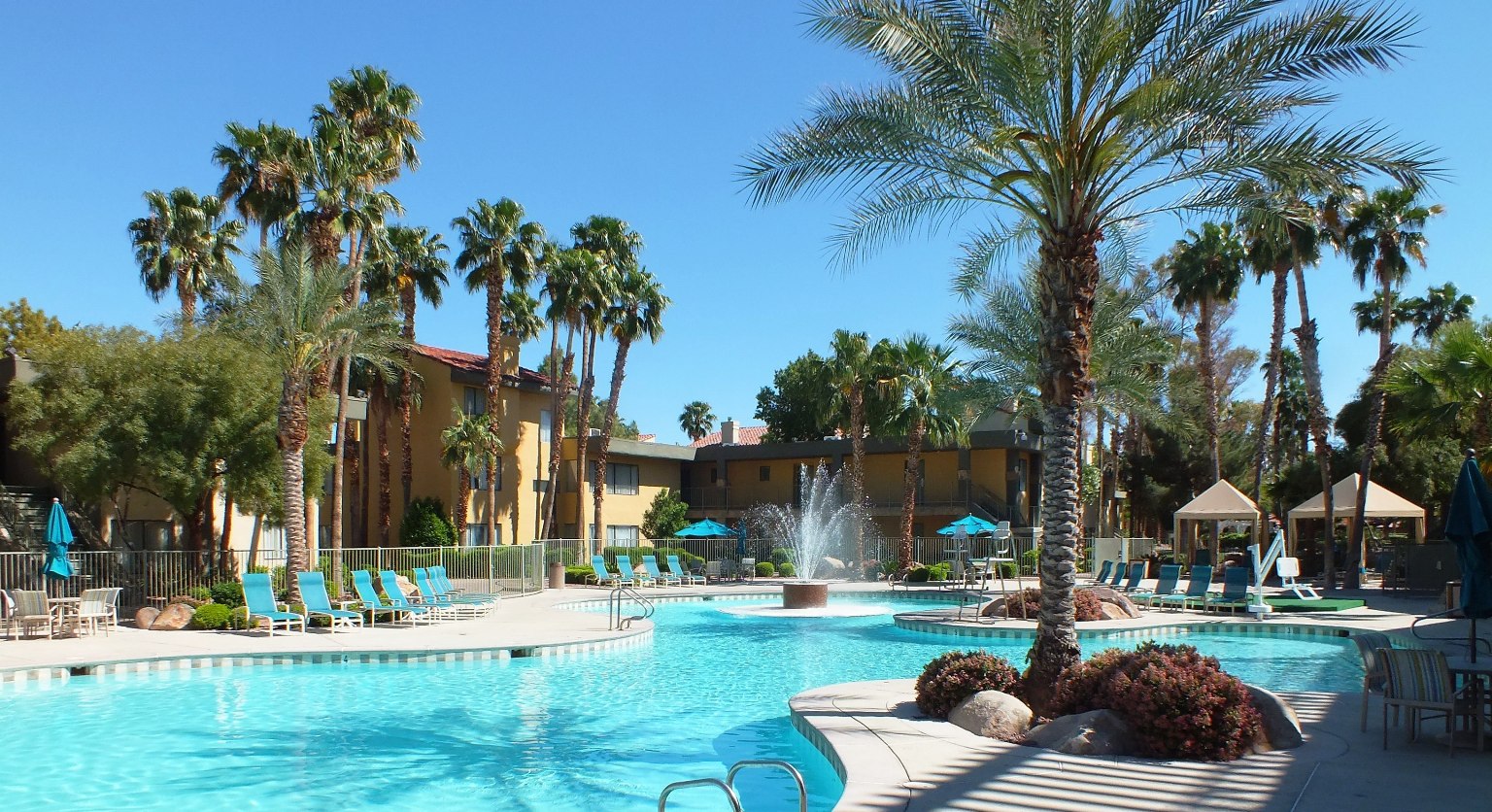 The Alexis Park All Suite Resort is a full service, tropical resort setting on 16 lushly landscaped acres with 3 sparkling outdoor pools (1 heated year round), a state of the art Fitness Center, Restaurant, Bar & Grill open every weekend and based on business demand weekdays and nights. The resort also has expanded Gift Shop offerings including beer and wine sales.
The resort is reminiscent of a CLASSIC "Palm Springs Bungalow Style" Resort and is conveniently located across from the world famous Hard Rock Hotel & Casino, less than one mile from the Las Vegas Strip, UNLV main campus and McCarran (Las Vegas) International Airport. We are pet and family friendly being the largest NON Gaming hotel in Las Vegas. Ample outdoor parking available.
We are also around the corner from the "G.E.D." – Gay Entertainment District locally known as the "Fruit Loop" with some of our city's most popular bars, dance clubs and gay friendly retail and entertainment businesses.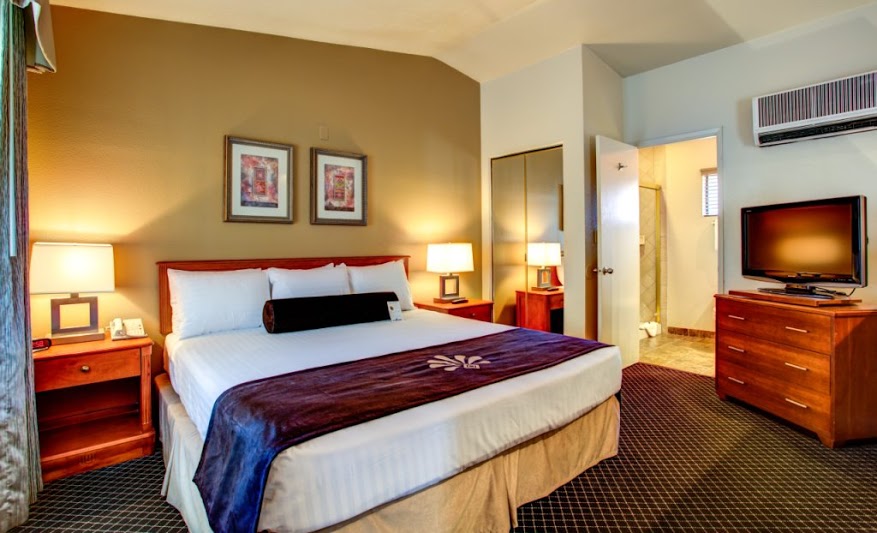 The Alexis Park offers affordable rates and amenities to all our guests. There are five suite options to select from starting at 475 square feet up to 1250 sq feet. We offer Queen, King and Double/Double Suites. All Suites include: a living room area with desk and work chair, Wireless Internet access (surcharges). Multi-line phone with voice mail, and HDTV with pay movies. Wet bar includes cabinets and drawer space, compact refrigerator, microwave, coffee/tea maker, sink and counter with two bar stools. Bathroom – most are Jack n Jill entrance bathrooms with newly remodeled soaking tubs, shower, and upon request, Jacuzzi tubs. All suites have hair dryers. Closet – Iron with Iron Board, real hangers. Non-Smoking
The resort currently offers Complimentary Open Signal WiFi access in all resort public areas including hotel lobby, restaurant, lounge, showroom, Pool #1, outside of meeting/banquet rooms. (Daily surcharge applies for in suite secured WiFi signals attached to each device used.)
POINTS OF INTEREST WALKING DISTANCE FROM ALEXIS PARK:
Gaming and Dining available 24 / 7 at Hardrock Hotel and Casino, dining options at Origin India, Subway, Hard Rock Café, Johnny Rockets, Sushi Kaizen,Capriotti's Deli, Paradise Cantina, Joe's New York Pizza, Ferraro's Fine Italian Restaurant & Hofbrauhaus German Restaurant. Kid Friendly: KISS Putt Putt Indoor Golf.
** Complimentary Hotel Airport Shuttle is for individuals based on availability from 7:00AM-9:30PM daily **
** Complimentary Scheduled Mid-Strip Shuttles to Planet Hollywood/Miracle Mile Shops 11:00AM-10:00PM daily**
The New Tropicana Las Vegas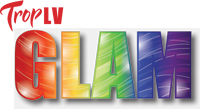 The New Tropicana Las Vegas
3801 S. Las Vegas Blvd.
Las Vegas, NV 89109
Website: trop.lv/lasvegasprideweek
Phone: (702) 739-2222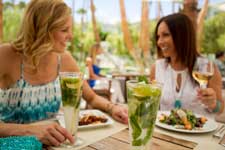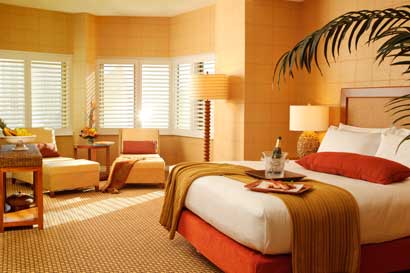 The New Tropicana Las Vegas is surprising LGBT visitors with a recently completed $200 million transformation and a mission to exceed the expectations of every guest, every day – and we do mean every guest. The exceptional experience that we provide originates from the diversity of our Team Members. Our inclusive, friendly team is thrilled to welcome the LGBT community to our newly transformed property, where we know you will feel embraced.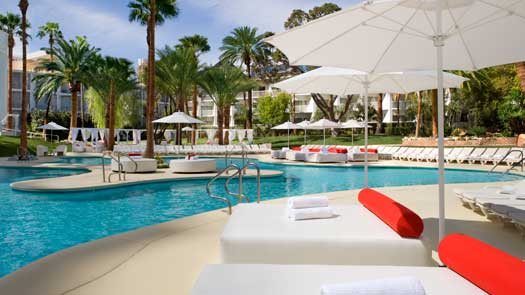 Intimate in size, we offer personalized guest interactions, allowing you unforgettable moments at each and every point throughout your stay. From our best-in-class rooms and suites to the 50,000-square-foot casino, acclaimed restaurants, new bars, the award-winning pool, and Glow®, a Mandara Spa and fitness center, our property will transport you to the comfort of a beach getaway that is attentive to your specific interests and desires.